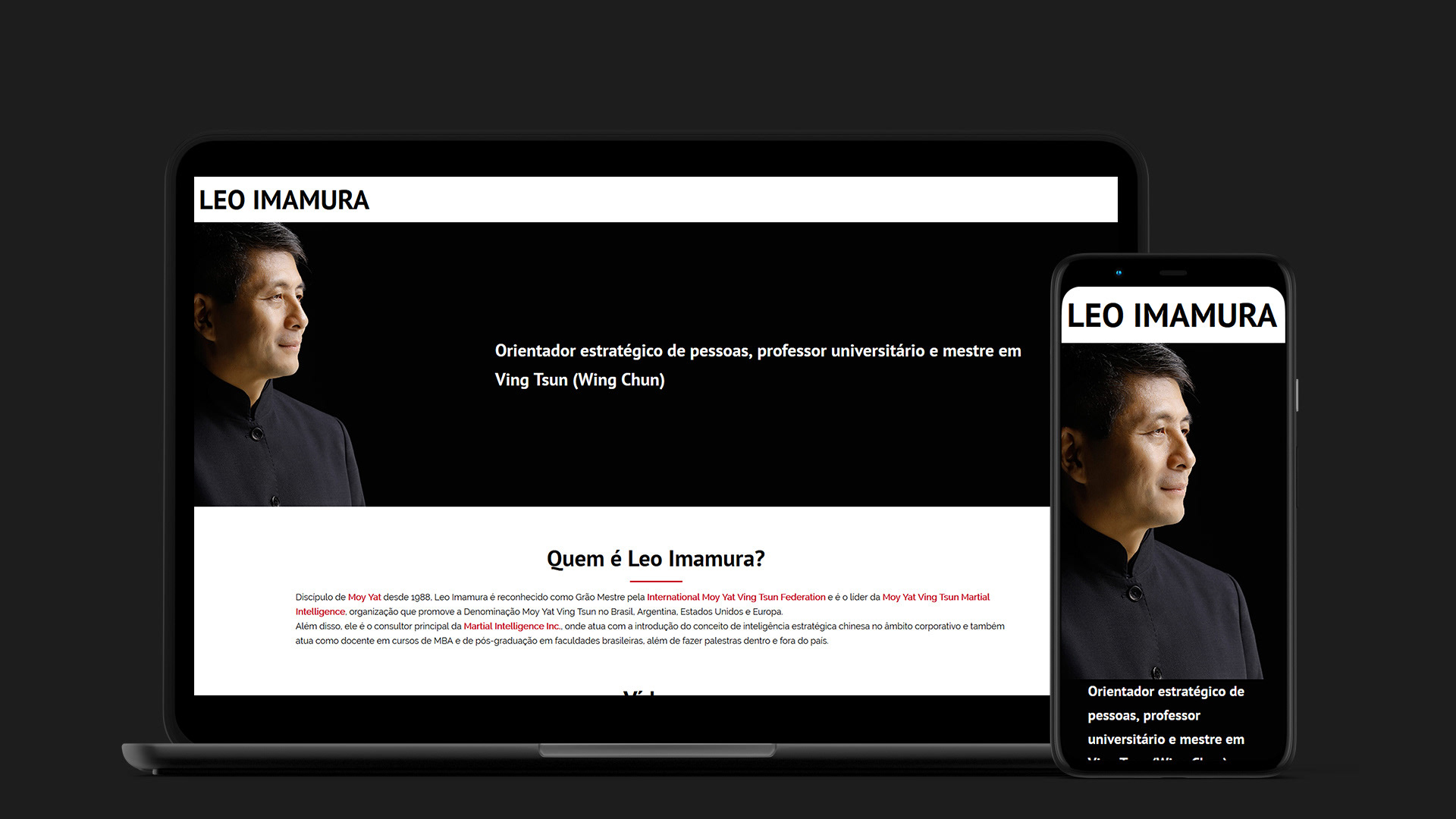 Leo Imamura is a world-renowned Ving Tsun (Wing Chun) master. Disciple of Moy Yat - who was a student of the legendary Ip Man - since 1988, he is recognized today as Grand Master by the International Moy Yat Ving Tsun Federation, is the leader of Moy Yat Ving Tsun Martial Intelligence, and executive director of the Moy Yat Institute in São Paulo, opened on June 28, 2019.
Leo Imamura é um mundialmente conhecido mestre de Ving Tsun (Wing Chun). Discipulo de Moy Yat – que foi aluno do lendário Ip Man – desde 1988, ele é reconhecido hoje como Grão-Mestre pela International Moy Yat Ving Tsun Federation, é o líder da Moy Yat Ving Tsun Martial Intelligence, e diretor executivo do Instituto Moy Yat em São Paulo, inaugurado em 28 de Junho de 2019.
He also uses his knowledge as a strategic advisor to people and as an academic at universities, teaching MBA and postgraduate classes at Brazilian colleges and has a YouTube channel which discusses Classical Chinese strategy, kung-fu (in the broadest sense) and other related topics.
Ele também usa seu conhecimento como conselheiro estratégico para as pessoas e como acadêmico em universidades, dando aulas de MBA e pós-graduação em faculdades brasileiras e tem um canal no YouTube que discute estratégia clássica chinesa, kung-fu (no sentido mais amplo) e outros tópicos relacionados.
Considering how well-known he is within the martial arts community, however not so well-known outside of it, and the fact that his presence online was low, the new site made it a mission to introduce him in an easy and direct way: Who he is (focusing on the aspect of strategic orientation and less on the martial aspect), videos that gave a sample of his thinking and work (being today samples of his work on the Kung Fu Life channel) and the contact form for anyone who wanted to know more.
Considerando o quão conhecido ele é dentro da comunidade das artes marciais, porém não tão conhecido fora dela, e o fato de sua presença online ser baixa, o novo site teve como missão apresentá-lo de forma fácil e direta: Quem ele é (focando no aspecto da orientação estratégica e menos no aspecto marcial), vídeos que deram uma amostra de seu pensamento e trabalho (sendo hoje amostras de seu trabalho no canal Kung Fu Life) e o formulário de contato para quem queria saber mais.
As his work was always more for indication, there was no need to invest in advertising. However the site was thinking for the best SEO on-page possible.
Como o trabalho dele sempre foi mais por indicação, não houve a necessidade de investir em propaganda. Porém o site foi pensando para a melhor otimização de SEO on-page possível.